Over the last few years, there has been a lot of innovation in drones. Drones are already being tested for package and food deliveries and other applications like agricultural monitoring, assessing essential infrastructure such as electricity lines, inspecting fire damage, and more. It's evident that the commercial sector has a high need for remote-controlled and autonomous drones, and that desire will only grow as drone rules are ironed out. This essay will look at how recent advances in
Artificial Intelligence
 computing are ushering in a new era of drone innovation.
Critical Challenges
Drones face several hurdles, including the necessity for extremely powerful computing that is extremely energy-efficient and tiny in size. This is especially true for drones that use many high-definition cameras for computer vision (CV) applications—today's digital computer technologies impact drone flight times and battery life, which are often power-hungry. Furthermore, complicated AI networks are crucial for supplying timely and relevant information to the control station that is difficult to run using digital computing technologies. Consider a drone used to check for leaks or other signs of damage on an oil rig. The drone must process the footage immediately to discover and report problems in real-time.
While digital solutions aren't suitable for many drone AI applications' demanding needs, a new computing method can help overcome these obstacles. Even with numerous huge, complicated deep neural networks (DNNs), analog computers in memory (CIM) can conduct real-time AI processing at a fraction of the power of a digital processing system. Unlike digital computing systems, which rely on high-throughput DRAM, analog CIM systems pair analog compute with a non-volatile memory (NVM) like flash memory. Analog CIM systems feature significant power advantages over DRAM by executing parallel vector-matrix multiplication and addition operations inside flash memory arrays.
Analog CIM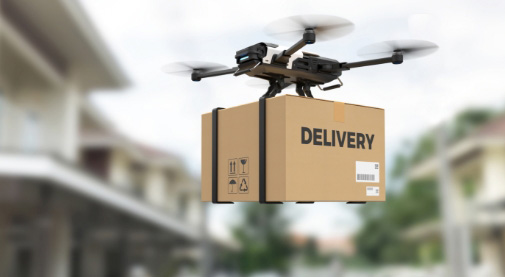 Analog CIM systems also avoid the delay of data propagating across digital logic gates and memory in the CPU and the writing and reading of external DRAM, allowing them to handle compute-intensive AI applications very quickly. Analog CIM systems are also small, ideal for drones with limited space and payload (i.e., weight). Because of the high flash density, analog CIM systems can give large AI processing power in a tiny form factor, allowing a single flash transistor to serve as a store media, multiplier, and adder (accumulator) circuit.
These aspects combine to make analog CIM systems appropriate for a wide range of drone AI video analytics applications. This stuff will unlock new and exciting opportunities for drones in the future years.
Autonomous Drones
Drones will process more information locally, allowing them to operate completely autonomously. Drones will be used to do difficult jobs in various industries, including agricultural, delivery, environmental protection, and security. Of course, there will be lots of applications where humans must control drones – whether for safety, regulatory compliance, or other reasons – but enhanced autonomy will allow one person to pilot numerous drones at once rather than just one.
There are various ways that drones will be employed indoors in factories and other industrial settings, in addition to the often discussed outside use cases for drones. Drones can assist inventory tracking and identification and transport goods to various warehouse locations. Drones will also be useful for inspecting equipment, particularly where people are at risk.
Bottom Line
Finally, advances in AI counter-drone technology will be fueled by increasingly capable drones. More than 100 reports of drones flying in restricted airspaces, such as airports, are received by the Federal Aviation Administration each month. Even if amateurs pilot these drones with no malicious intent, they can represent a major hazard to aircraft, particularly helicopters and small planes. Drones will capture other drones regarded as a threat to public safety as computing advances.