The
Internet of Things
.(IoT) involves sensors and other computing devices embedded in common things, helping them to send and receive data over the internet. As per Statista, almost
20 billion IoT devices
are currently operating. Within a few years, that will increase to over 50 billion.
The sheer amount of data generated during a typical trip is enough to make one's head spin. A single-engine plane, for example, may create more than 844 TB of data in just 12 hours. That's more data than Facebook collects in a single day, implying that data volumes created may quickly exceed those of the consumer internet with more modern planes and engines.
In comparison, that data is significantly more useful in terms of business. The more sensors there are, the more information can be gathered, and the more efficient, safe, and controllable flight can be.
The IoT market in Aerospace and Defense is exploding.
In A&D, the market for IoT was expected to be worth $91.5 billion. It is expected to more than double by 2023, thanks largely to the North American A&D sector. While manufacturing continues to lead the way in terms of IoT benefits, A&D isn't far behind, capitalizing on potential advantages in operations, maintenance, and engineering.
The Internet of Things makes flying safer and more cost-effective.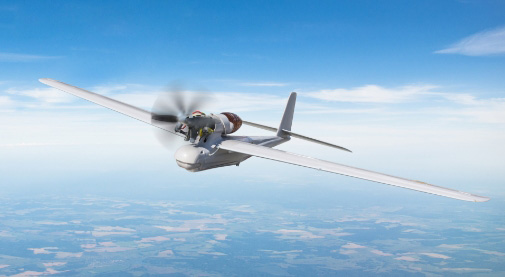 It's crucial to make sense of it all to improve safety and performance. IoT is the key to data gathering and delivery, making our time in the air safer, more cheap, and more efficient overall, whether we're talking about combat jets or short-hop commuter flights.
For example, IoT data from a jet engine feeds a predictive AI that forecasts the machine's demands and adjusts thrust levels, resulting in a 10–15 percent reduction in fuel consumption, as well as reduced emissions and engine noise.
Improved maintenance and less time on the ground
Performance data is sent in real-time to engineers and designers of engine technology, driving changes in how aircraft are flown and minimizing the likelihood of grounding. Long-term maintenance contracts can be offered at a lesser cost because difficulties are quickly communicated to ground staff, cutting down on time spent diagnosing issues and putting planes back in the air.
In-flight data transfer speeds are a challenge.
The difficulties appear to be related to the time it takes to send the acquired data. Even Ethernet-based planes can only share data at a rate of 12.5 MB/s. While this is significantly faster than traditional avionics systems, it is still not real-time. As transmission speeds improve, the "black box" may be relegated to the role of a backup device.
Grounding times are being cut, and costs and efficiencies are being improved.
When you consider that a stopped A380 Airbus costs upwards of $1.2 million a day, the amount of time an aircraft spends on the ground is an important in-flight economy. Maintenance duration can be cut in half with IoT sensors monitoring engine performance from thousands of angles, and remedies can be adopted the instant the craft lands, making flight safer, more predictable, and significantly less expensive.
As the Internet of Things continues to disrupt the avionics industry in general—and aerospace and defense in particular—we may expect increased penetration in this sector, which will drive efficiencies and improve the viability of defense budgets. A safer world could be on the way, and if we're lucky, we taxpayers will reap the rewards.
If you want to know more about how IoT can benefit your processes, reach out today.
Bottom Line
As the industrial sector welcomes IoT, aerospace and defense are at the forefront. From maintenance and engineering to analytics and the digital twin, IoT is already revolutionizing the industry.
If you want to know more about how IoT can benefit your processes, reach out today.