Every son and daughter's worst fear is hearing that one of their parents collapsed when no one was present. In order to overcome this fear and support, Teksun comes with a solution called
Telep Fall Detection AI
.
One of the toughest challenges is that older people have to deal with bad falls. Not only does it seriously harm their already weakened bodies, but it can also result in heartbreaking, avoidable deaths.
One-third of persons over the age of 65 experience falls during the course of a year, according to statistics. Two-thirds of individuals who fell will fall again during the next six months, which makes the situation worse and may be life-threat.
This significant question is then raised as a result. What can you do to prevent your grandparents or parents from suffering a serious fall?
You can provide them with a fall detection device.
Discover the advantages of this life-saving software by reading on.
What is the Working Process of a Fall Detection System?
Let's start with the fundamentals.
A medical alert gadget has automatic detecting mechanisms built in. It may be worn around the neck or on the waist, depending on the system.
These systems come equipped with detection sensors. These sensors are capable of distinguishing between normal activity and genuine falls. It accomplishes this by continuously measuring the rate of movement in every direction.
This system resembles the one in your smartphone in certain ways. The same kind of accelerometers that are used in fall detection systems are monitoring your phone's movement when you tilt it sideways.
It will notify a predetermined number—which might either be a call center or an emergency service—if it detects an unusual movement.
These gadgets have minimal to no false fall detections since they are extremely accurate at detecting the user's position and velocity of movement.
What Are the Advantages of a Fall Detection System?
Private and Affordable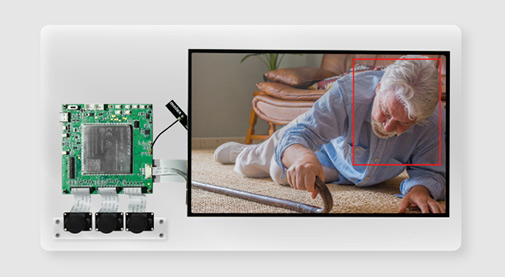 It might be costly to care for elderly family members. Even now, the price of assisted living facilities, nursing homes, and private health services is high, and these prices are rising yearly.
An affordable solution to guarantee that your parents or grandparents will have access to emergency care is through automatic detecting systems. Additionally, it grants them a sense of privacy that residents of community care cannot.
Statistics indicate that 37.3 million falls each year are severe enough to require medical attention. You need a system that will get your loved ones help as soon as they need it if you don't want them to have to worry about high medical expenditures brought on by protracted injuries.
It gives you independence
People desire to keep their dignity as they age by being independent. They can feel this comfort from a fall detection gadget. They can live independently in their own homes without requiring continual supervision from others.
They Provide Mindfulness
You and your loved ones can have peace of mind knowing that they are protected even when they are alone thanks to an automatic detecting device.
This relieves you of the responsibility of continually checking on your parents or grandparents and lets them know that assistance is available at all times.
It is Very Effective
Teksun Telep Fall Detection AI model can be utilized in a variety of settings. They can be used in the shower or the pool because they are waterproof. Even when you walk outside, fall detection equipment is portable and light.
Protect the Personal Privacy
Teksun Telep Fall Detection AI is built-in with On-edge detection that can detect humans without identifying individuals.This maintains privacy at all times.
Multi-person fall detection
The designed software's best feature is that it can handle a multi-person skeleton, allowing for multi-person fall detection.
Bottom Line
Get a Teksun Telep Fall Detection AI and Keep Your Loved One Safe and Sound
Keep your loved one safe and secure by buying a Teksun Telep Fall Detection AI.
Get an emergency service device for your elderly parent, grandparent, or other loved one if you want to make sure they always have access to emergency services while maintaining their independence.
You should seek assistance from a reputable firm that has been in the aged care industry for more than 100 years if you want to provide your loved ones with the greatest care possible.
Click here for further details or if you have any questions about the software